Monthly Archives:
September 2014
It's a bit deceiving this time of year. Every now and then we get a warm day (or two), thrown in between some cool weather. It means I need to make sure the kids have some summer clothes ready for these odd warm days and that we aren't relying on last summer's clothes which, inevitably, will be too small for someone!
While my little Miss looks lovely in a dress, I don't think she'll wear many this summer as dresses aren't very practical for climbing and is she a climber! At this stage, we might have to have a good stash of shorts instead!
I've had this gorgeous Pam Kitty fabric in my cupboard since last year and decided to make the Elegance and Elephants bubble shorts as I love this pattern for it's simplicity and stunning result.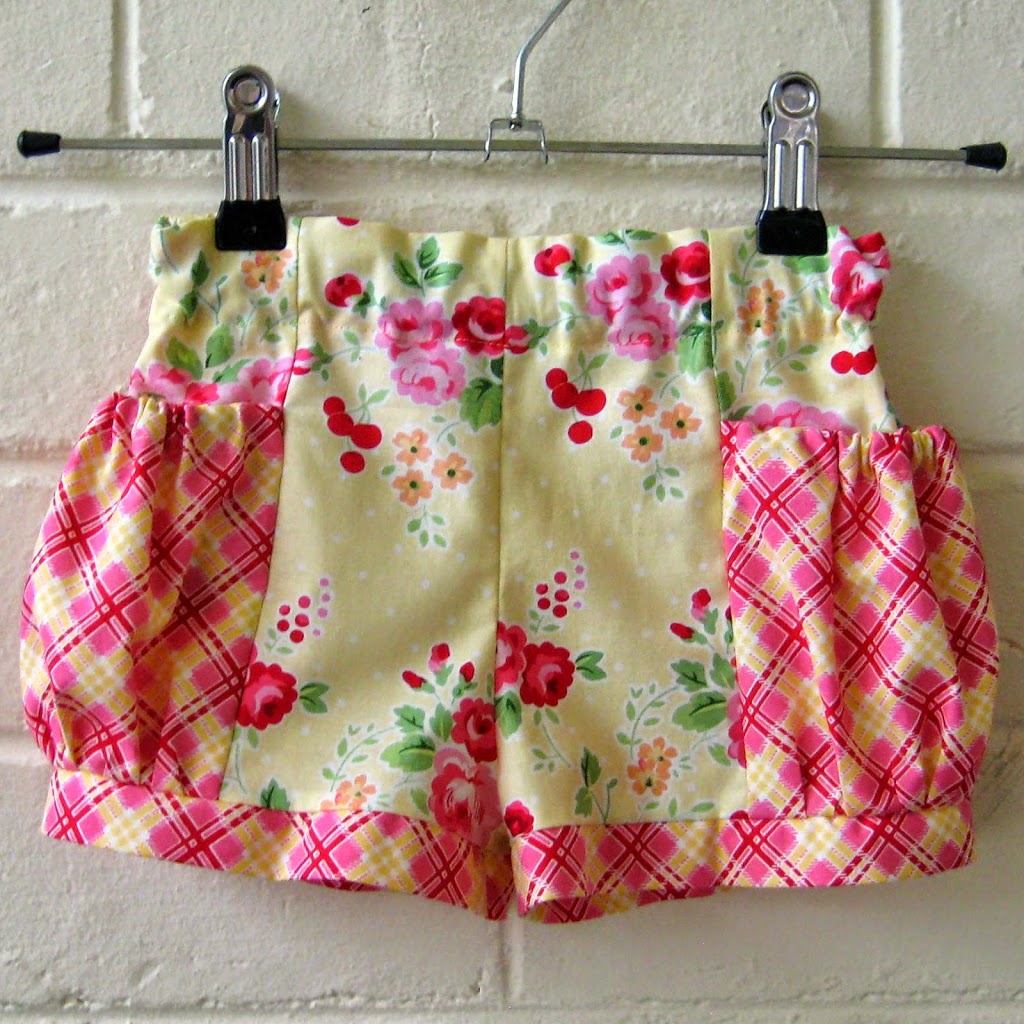 I measured Miss Em's waist and chose to make the size 1 as these don't have adjustable elastic, but silly me didn't think about the fact she's still in a nappy so the size 1 is a little snug around her butt. So I then made the next size up.
I had a dig through my tshirt box and found a short sleeve tshirt that coordinated nicely with the shorts and embroidered two little birds on it…for something that was meant to be a quick design, it took me 2 hours and a lot of cursing!
And while I would love to show you how it looks on…the weather has turned cool again so I'm not sure when Miss Em will get to wear this outfit. In the meantime, you'll have to live with a size 2 outfit squeezed on to my size 3/4 mannequin 🙂
We recently had Book Week at school and then at kindergarten. When the note came home from school that the kids could dress up as their favourite book character, I have to say, I was a little excited. I haven't actually made any costumes for my boys…apart from super hero capes and masks…so I leapt at this opportunity.
I asked Daniel what he would like to dress up as and, after agreeing that a Skylander is not a book character, he settled on Jack from Jack and the Beanstalk. We Googled Jack costumes and even checked on Pinterest for ideas.
It was very simple and easy to put together. I found a tutorial for the hat and added a feather.
For the vest, I roughly traced around one of his shirts to give me the shape of a vest. I didn't hem the edges of the vest, giving it a more peasant/rustic look. Ok, to be honest, I was being lazy (and maaaayyyyy have left it till the night before, which wouldn't surprise anyone that knows me) and thought a slightly frayed look would add to the asthetic, which it did.
We finished off the outfit with a pair of black track suit pants and a white long sleeve tshirt that we already had and tied the whole look together with a beanstalk, which was just a length of green fleece sewed together in a stalk kinda way. I then stuffed it and added a tie that slipped over Daniel's shoulders to help him hold onto it. The bean stalk then had large ivy leaves weaved into the stalk by just cutting holes and threading through because it was late by this stage and I didn't really fancy hand sewing ivy leaves (needless to say, there were no leaves left by the end of the day!).
Daniel was very happy with his costume and was immediatley recoganisable at school…he even made the school newsletter 🙂
* Big apologies for the quality of this photo…it was taken really quickly before we raced out the door for school!