I love working with Jen from One Thimble so when I had the opportunity to work with her again I absolutely jumped at the chance!
I have had the idea of the Willow Dress floating around for awhile and even though I was in the middle of working on the Violet Dress (I generally like to finish one pattern before starting a new one) I pitched the idea to Jen and she liked it so all of a sudden I was working on two patterns at once!  Ahhh, nothing like a bit of pressure to get the adrenaine pumping – ha!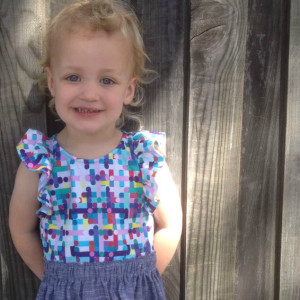 Bodice fabric available here.
Using a knit fabric for the bodice, the top section features a ruffle through the shoulder and around the armhole with a binding finish on the neckline and armhole.  The skirt section is simply a woven fabric with an elastic waist attached to the bottom of the knit bodice.
My pattern testing group did a fabulous job with their versions of the Willow Dress.
Two Little Chooks
Candice Ayala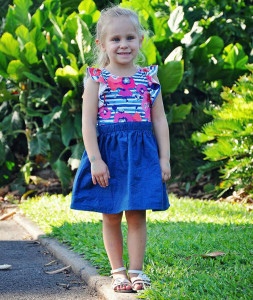 Amanda Flor
Carly from Miss Edee Designs even added a tulle over lay for the skirt – stunning!
While we were in the testing phase, it was suggested that long sleeves would make this a more year round dress so long sleeves were added, which I am really happy we included them.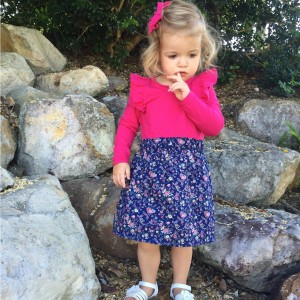 Zyzo Australia
Candice Ayala
The Willow Dress PDF Pattern is available now through the One Thimble ezine along with 10 other PDF Patterns plus heaps of articles and tips to make your sewing soar!