When I was first approached to join this collaboration I was very excited and jumped at the chance. We had not long moved to sunny Queensland, the perfect location for a beach pattern collaboration.
While things didn't quite go to planned, with life completely turned upside down, I plugged along and worked as quickly as I could to complete my submissions.
Let's start with the Bodhi Boardskirt which is a very quick, easy skirt to sew.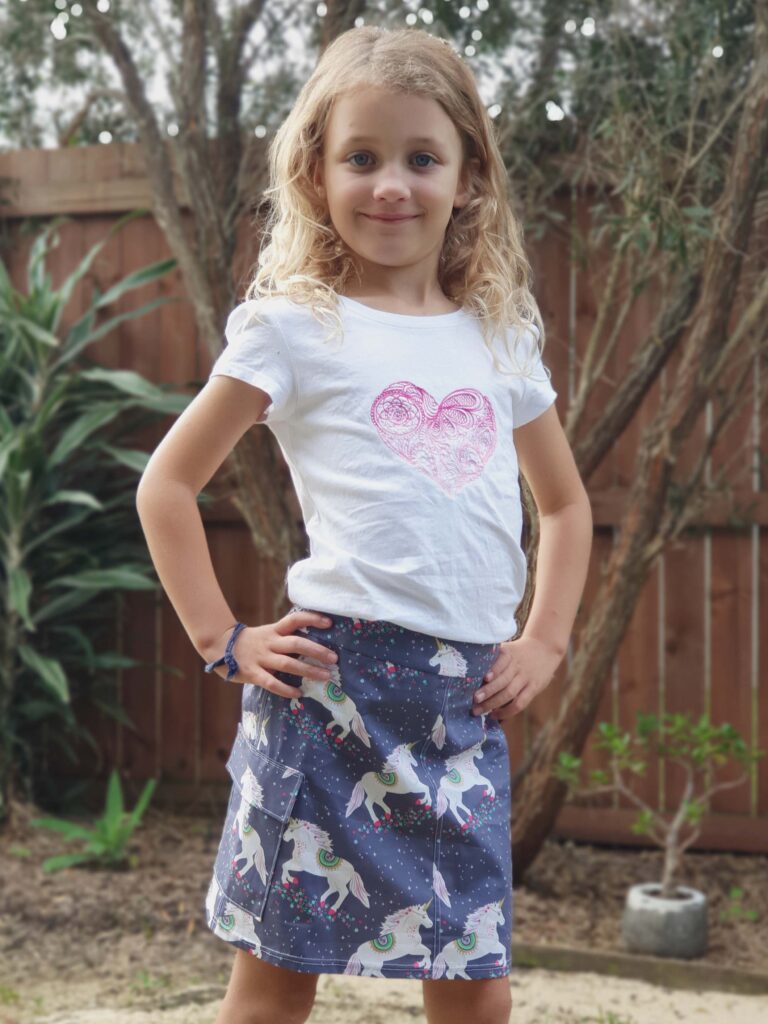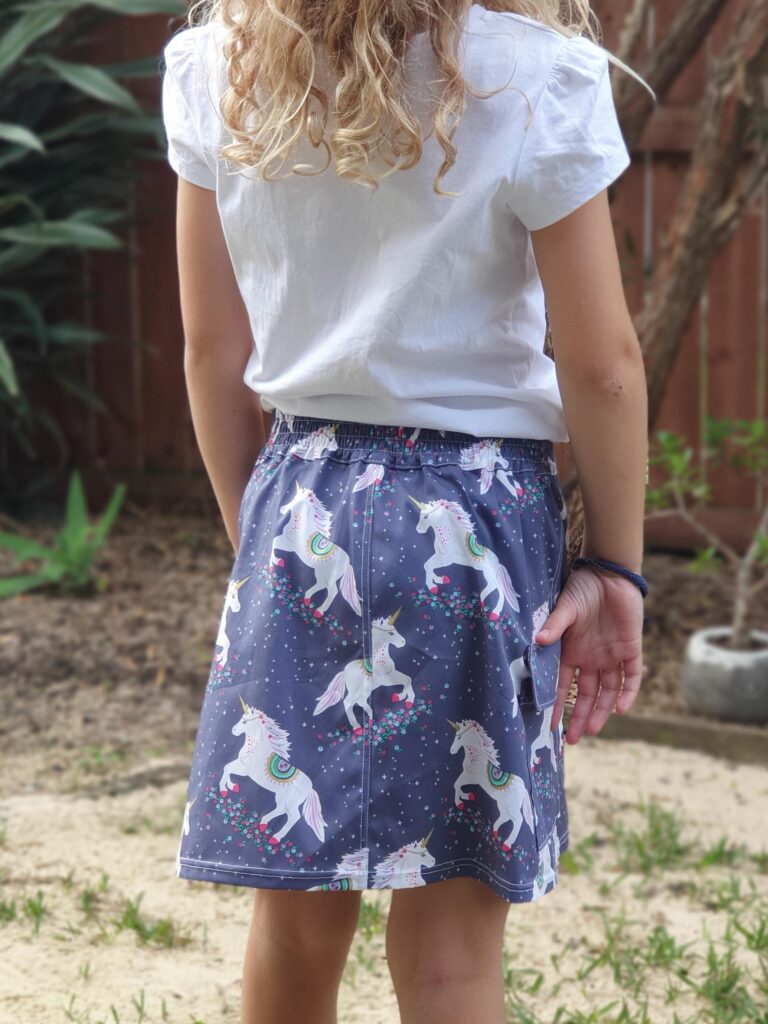 The Bodhi Boardskirt features a pocket with a flap on the side, front flat waist and an elastic back waist making it easy to pull on and off. Designed originally for Boardshort fabric (Peachskin), don't let that limit you when making your own Bodhi.
When we head to the beach, my Miss is an avid shell collector. I'm constantly being asked "Mum, can you hold this?" as she hands over a wet, sandy shell. Now, she has her own skirt with a pocket in a quick drying fabric that she can fill to her hearts delight with wet, sandy shells!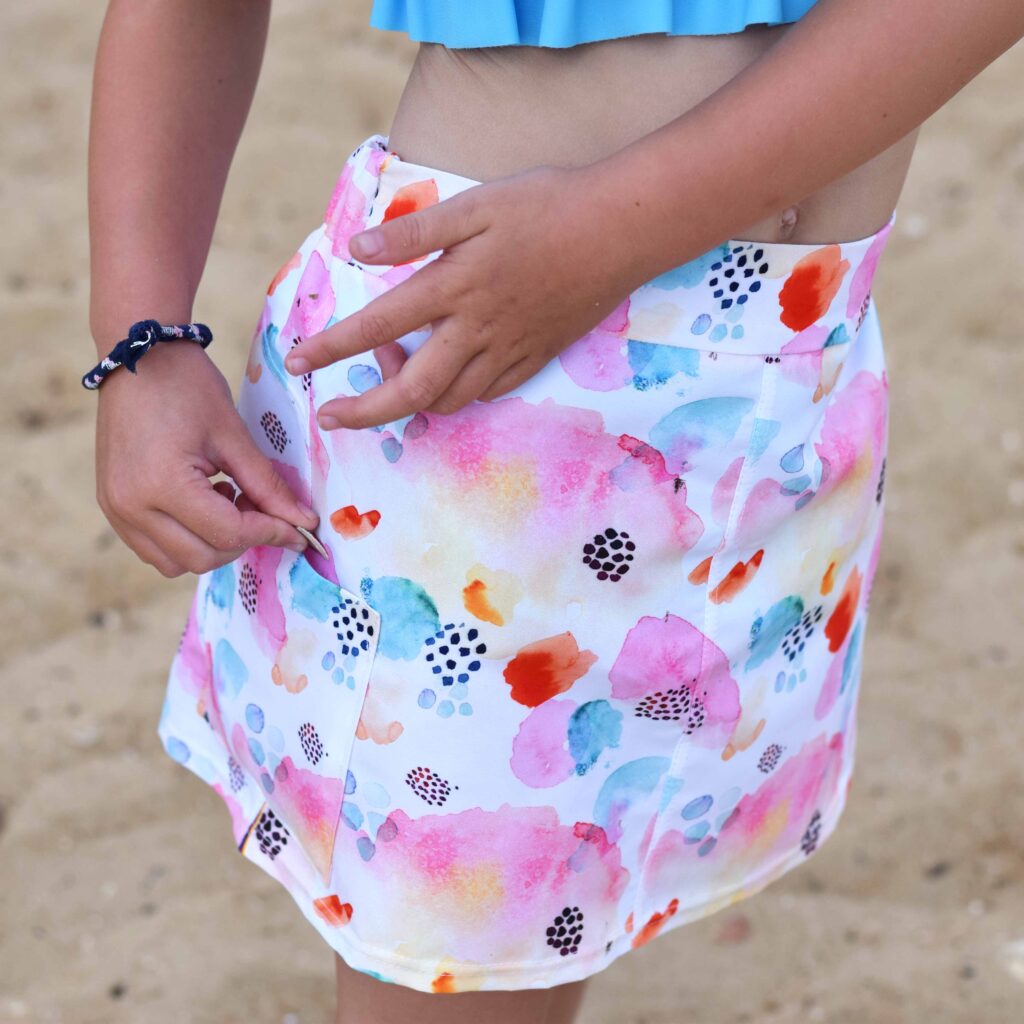 Project Watercolour Beach includes some amazing designers who have all contributed awesome patterns that will get your through summer, whether you are at the beach or not.
Skirt Fixation – Coral Wrap Dress, Top and Skirt
Jennuine Designs – Viridian Swimsuit and Cobalt Boardshorts
Call Ajaire – Ultramarine Coverup and Chromium Cropped Hoodie
Suco by Susana – Lemon Tee and the Golden Dress
The Wolf and The Tree – Abby's Marigold Pants
While I'm working hard to finish the Ripley Swimsuit, I haven't had a chance to sew everyone's patterns but I have made a start.
We chose the Chromium Cropped Hoodie by Ajaire from Call Ajaire as our first pattern to try.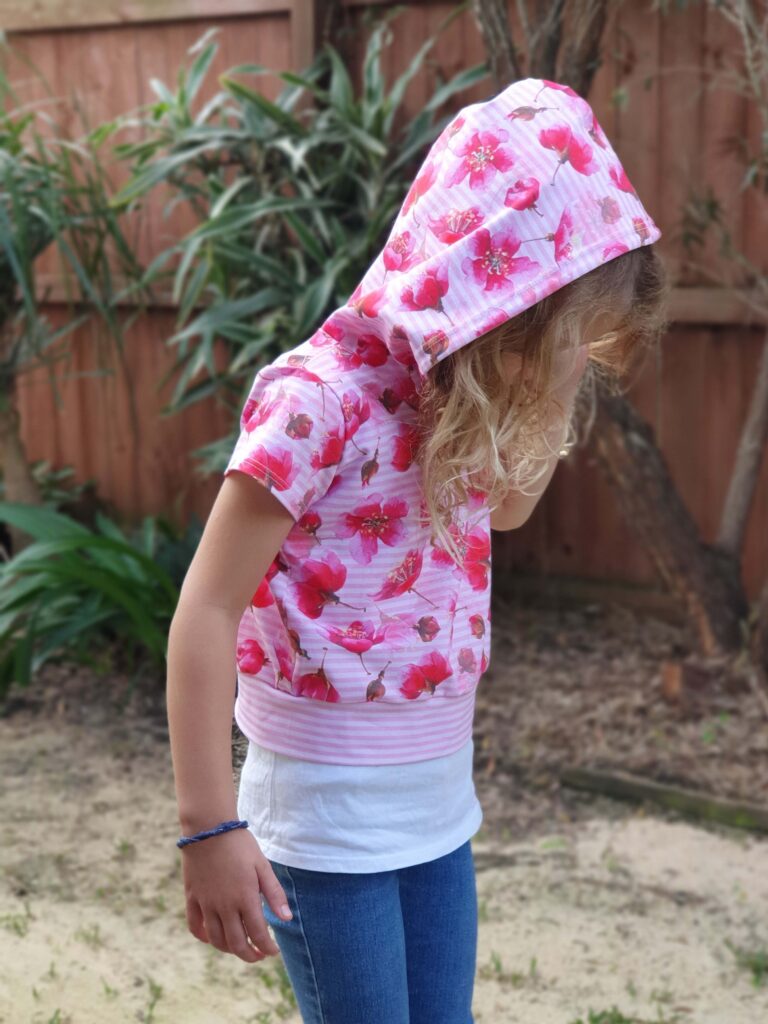 I'm the first to admit that I do not sew fast – lol! But this was a very fast sew and came together beautifully. After consultation with my Miss, we choose the cropped length, but I think the next one I make will be longer. With both cropped and longer options included, that won't be an issue.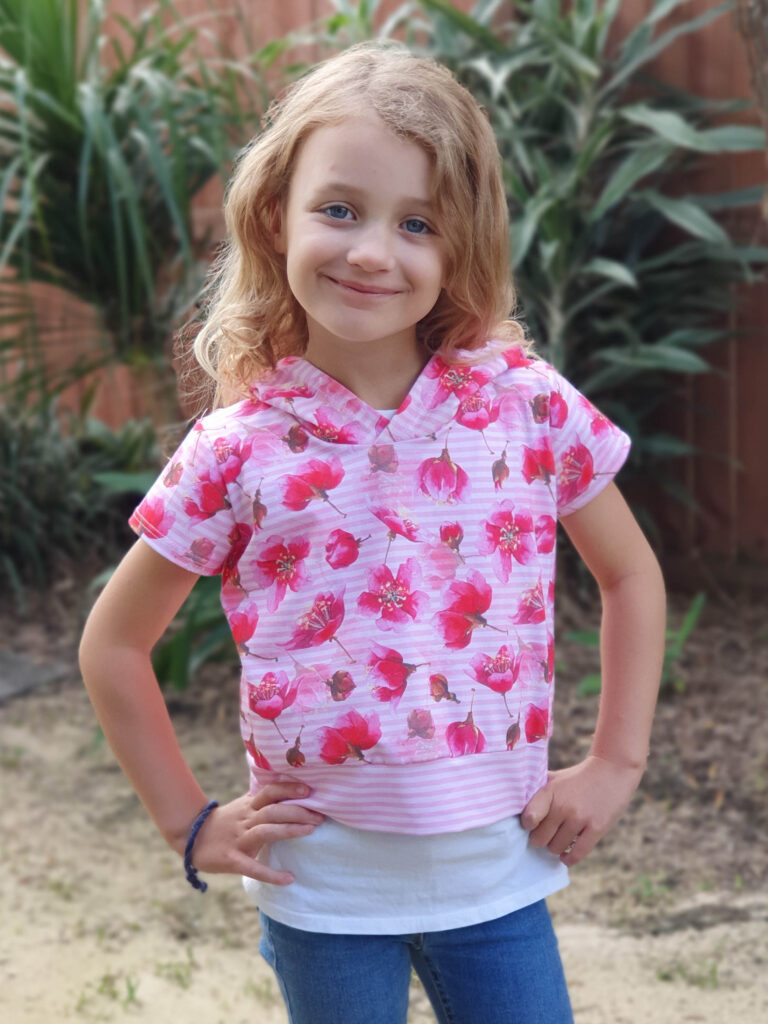 The pattern includes four neckline options – hoodie, funnel, cowl and crew as well both short and long sleeves. There are also two different hem options and the option to add animal ears in the hood.
I can definitely see many more of these being made.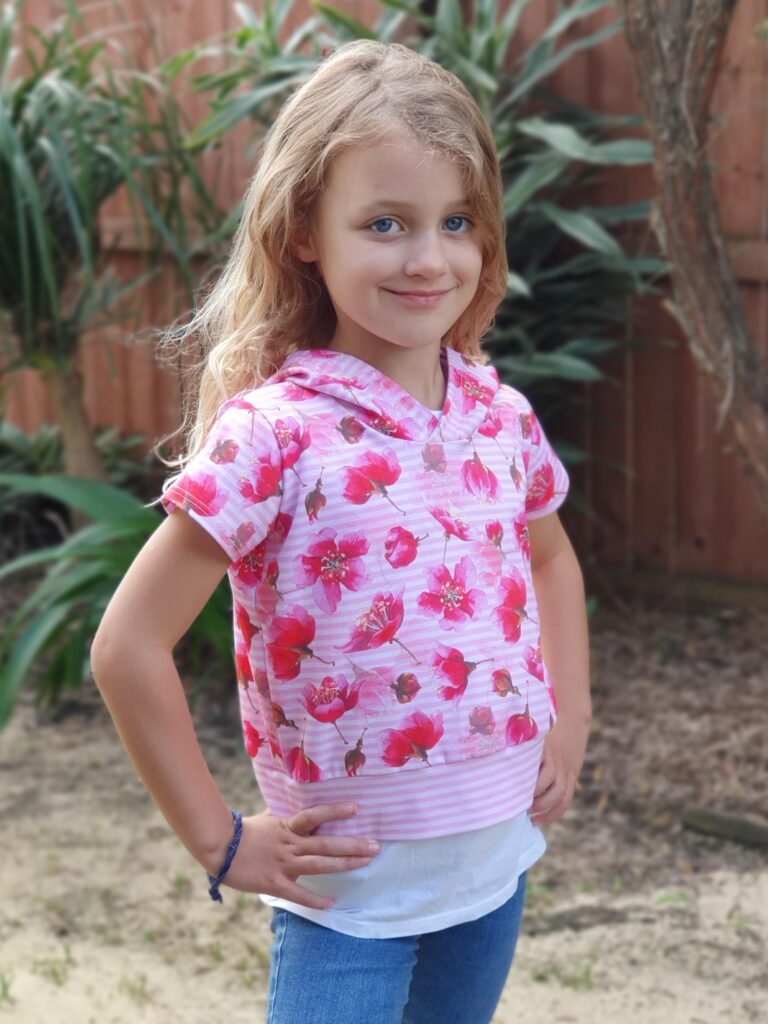 I managed to sneak in another quick sew of Call Ajaire's and that is the Ultramarine Coverup. The pattern includes a hood although I went a little off plan and lined my hood to match the sleeves.
The coverup has a sweet gathering detail in the front which you can achieve by a few different methods listed in the pattern. Being time poor, I quickly gathered at the front but I love the look of the drawstring option.
The Ultramarine is going to be great for us, when it warms up enough to head to the beach again, to throw over a pair of swimmers before and after a swim. In fact, I've seen this made in a towelling fabric which makes it perfect for after a swim!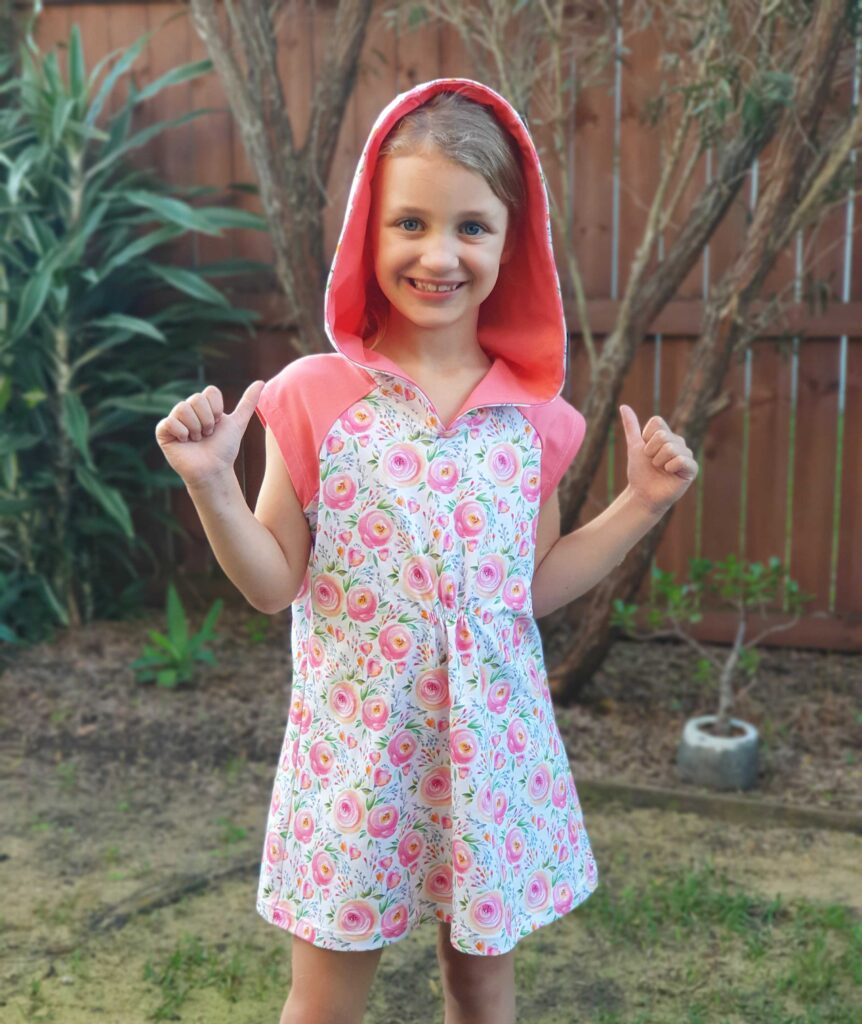 All the patterns included in this project are perfect for creating an awesome summer capsule.
I'm very excited to have released my first swimsuit pattern through Project Run and Play! The Ripley Swimsuit is finally finished and now available! It is a fully lined swimsuit that features an empire line, cross over bodice and ruffles through the straps.
The Ripley Swimsuit and Bodhi Boardskirt shown here together. When the swim is finished, simply pull up your Bodhi Boardskirt over your Ripley Swimsuit and off you go…no dramas about getting sandy feet into shorts!