I've been playing around quite a bit lately with my current patterns trying to get the most out of them with different looks.  The latest pattern to receive my attention has been the Willow Dress PDF Pattern.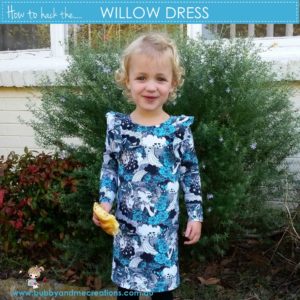 You will need –
Firstly, measure the desired length of the finished dress.  You can use the finished dress length measurements in the chart or measure your child.
Using the front and back bodice pieces only, extend to the desired length (make sure to include a hem allowance).  At the hem side seam, measure out 1.5″ (or desired amount) and then draw a line back up to the corner of the front and back side seams.  The finished pattern pieces are shown in black.
Cut out your front, back, side front, side back, neck binding and either your long sleeves or armhole binding pieces.
Follow the pattern instructions from STEP 1 to STEP 11 making sure to continue right down to the hem.  Complete through to STEP 16 and then finish off by hemming your dress and you're done!
(And hopefully your model doesn't have a  food smile when you're taking photos – oopsy!!)
Save